Practice Growth Defined
Many people interchange the words marketing and practice growth. Those who do are wrong. Why? Because growing a firm takes more than top-notch market strategy.
Practice growth is…
"A strategic business function that drives top-line growth as well as profitability. This systematic approach to marketing, business development and practice management, along with how the three functional areas are interconnected, builds a foundation for tactical maneuvers which are aligned to produce optimal growth." (~Katie Tolin)
Think of practice growth as the three legged stool where each leg needs to be the same length to support the weight on top. These three legs are each equally important to the overall success of a firm. The following highlights the three growth disciplines: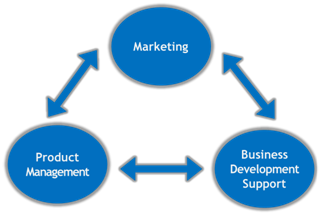 Marketing consists of those things we're most familiar with including branding, advertising, events, sponsorships, thought leadership, newsletters, websites and SEO.
Business development support includes pipeline development and maintenance, proposal preparation, opportunity pursuit coaching, business development training, lead generation activities and managing the sales force.
Product management includes developing both industry and service-line niche strategies (focusing especially on the areas where the two overlap), developing new service offerings, innovating current offerings and packaging offerings so they best appeal to a defined buyer.
Marketing itself is not the end all solution, rather it is part of the process that enables growth. When marketing, business development support and product management come together, you will be able to implement strategies that will increase your top-line revenue. Firms that focus on practice growth will experience increased revenue, higher profitability and enhanced teamwork.