Many people interchange the words marketing and practice growth. Those who do are wrong. Why? Because growing a firm takes more than top-notch market strategy. Here's why your CPA firm needs a practice growth strategy instead.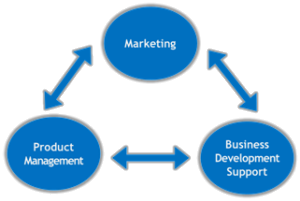 Think of practice growth as the three legged stool where each leg needs to be thes ame length to support the weight on top. These three legs are each equally important to the overall success of a firm. I first learned the practice growth concept from Gale Crosley, a highly respected consultant in the accounting industry. After a decade-long career in practice growth, I have seen how these three components, when utilized effectively, can change the culture and success of firms.
The following highlights the three growth disciplines:
Marketing consists of those things we're most familiar with including branding, advertising, events, sponsorships, thought leadership, newsletters, websites and SEO.
Business development support includes pipeline development and maintenance, proposal preparation, opportunity pursuit coaching, business development training, lead generation activities and managing the sales force.
Product management includes developing both industry and service-line niche strategies (focusing especially on the areas where the two overlap), developing new service offerings, innovating current offerings and packaging offerings so they best appeal to a defined buyer.
Practice Growth Defined
To further illustrate the difference, let's look at how both marketing and practice growth are defined: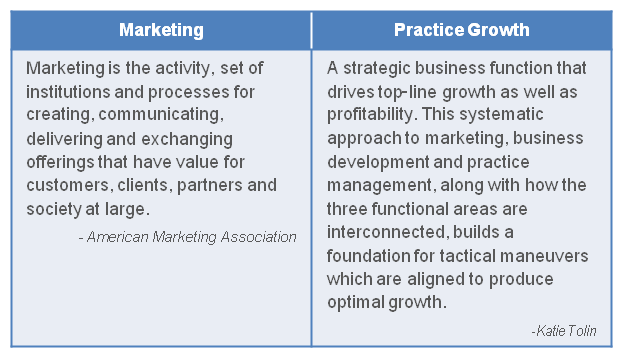 Strong Leadership is Imperative
The growth function is supported by a leader-focused organizational model where the firm's managing partner takes ownership for the growth function and appoints industry and service-line niche leaders who then own all work being done firm-wide in their respective areas, not solely within their traditional "book of business." All these niche leaders drive the growth of their piece of the pie and are held accountable for doing so. Service-line leaders have the added responsibility of ensuring the quality and the consistency of the end-product.
The firm's practice growth team drives this effort by providing the needed tools, coaching on next steps and by turning the knowledge and insights of the niche leader in to an actionable plan that drives revenue. Don't have a practice growth-focused team? It's possible for your current marketing team to transition into this role with a little education and coaching.
Put the Firm First
For a firm to transition from a marketing culture to one that supports growth, everyone in the organization must work as one-firm, moving away from "my client" to a mindset of a client being the "firm's client." Egos need to be checked at the door as this is about what is best for the firm and helping the firm reach its established goals.
Not all firms have the culture or desire to be a practice growth firm, but those that do experience increased revenue in targeted areas, higher profitability and enhanced teamwork.
Marketing itself is not the end all solution, rather it is part of the process that enables growth. When marketing, business development support and product management come together, you will be able to implement strategies that will increase your top-line revenue.